THE DRIVING SCHOOL 'ZHAIVORONOK'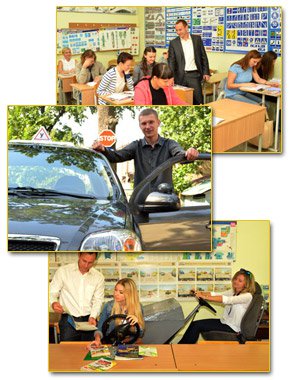 The Driving School of Safe Driving is a structural subdivision of the the Driving School 'Zhaivoronok' has trained driving, since 2002. We have gained authority among the people of Kiev and the region. Our Driving School is one of the best schools both in quality of teaching and umerenost prices.
The result of successful passing exams in MREO (Interregional Registration and Examination Department of the State Road Safety Inspectorate (Traffic Police) by our students on the first attempt is 84%. It is the best indicator among the driving schools of Sviatoshynskyi district of Kyiv City.
Modern methods of training and the highest qualification of our teachers and instructors will help you get not just basic driving skills, but become a true Professional. Our Driving School's teaches, develops and consolidates the skills of safe driving. After the completion of the Driving Course, you will feel free and confident in driving and drive safely any car.
The instructor of the Driving School 'Zhaivoronok' is a driving master, an excellent teacher and a subtle psychologist. He will help you cope with the natural fear of the road and gain confidence in your abilities. Many years of experience and hundreds of grateful students under each instructor's belt.
Many believe that 'buying' a Driver's License is an easy and quick way to gain access to driving a car. But the sad statistics show that the majority of accidents occur due to the fault of just such 'students'!
The experience of driving comes with time only. But we are sure, it should be based on solid knowledge and well-trained technology. This principle is the basis of training at the Driving School 'Zhaivoronok'. 85% of students comes to our Driving School on the recommendation of friends. This is a clear proof of our professionalism and the quality of teaching.
We DO NOT teach 'to pass exams at the State Automobile Inspectorate (Traffic Police)'; we train drivers with whom we drive on the same roads!